Shower Reglazing Near St. Louis, MO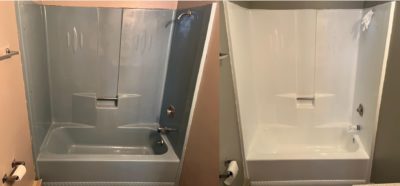 How Long Does It Take To Reglaze A Shower?
Well that depends on the size and condition. Normally it takes anywhere from 4 to 6 hours to reglaze a standard Shower.
What If The Shower Has Been Reglazed Previously?
Then it should be professionally removed before it's reglazed again. If we don't remove the failing coating it will continue to fail and take the new coating with it.
Can We Repair A Rusty Shower?
Yes we will use a chemical to remove the rust and then we will fill the area and sand it smooth. If your shower has rust additional charges may apply contact our office for details.
Are You Able To Reglaze Fiberglass Showers?
Yes we can reglaze Acrylic Showers, Cultured Marble Showers, Fiberglass Showers, Shower Pans, Tile Showers, etc.
Do You Offer A Reglazing Warranty?
Yes we offer a 10 year reglazing warranty on all of the showers we reglaze.